Oisin Benson vs. Jack Killane
Jack was playing the young and bright talent Oisin Benson. He reached what looked like an overwhelming position, before agreeing a draw after a repetition of moves. I suspected, on the night, that he could have converted the full point, and Fritz analysis seems to agree. Here's the position, with white having just played Rac1:


Benson v. Killane, after Rac1
1…Ne4 Still keeps the advantage. But Nf3+! first would have been easily winning.
(1… Nf3+ 2. Kf1 Nxh2+ 3. Kg1 Nf3+ 4. Kf1 c2 5. Re1)
2. Ne1 Nf2 3. Rd4 Nh3+ 4. Kh1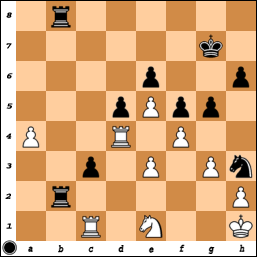 Black now opted for the perpetual check and a simple draw. But he had…
4… Rb1 5. Rdd1 Nf2+ 6. Kg1 Nxd1 7. Rxb1 Rxb1 8. Nc2 Nxe3+ 9. Kf2 Nxc2
Mark Berni vs. Leon Fagan
Albin Counter Gambit (Click to Replay)
1. d4 d5 2. c4 e5 3. dxe5 d4 4. Nf3 Nc6 5. Bg5? f6 6. Bf4 g5! 7. Bg3 g4 8. Nfd2 fxe5 Wins back the pawn with a large space advantage. 9. a3 a5 10. f3 h5 11. Qc2 Qf6 After the Albin Counter Gambit opening, white allows black to establish a huge space advantage and a bind on his position. In particular, the white-squared bishop and king's rook are locked away.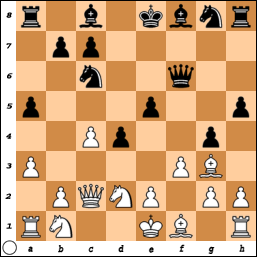 After Qf6.
12. Ne4 Qg7 13. Nbd2 Nh6 14. O-O-O Be7 15. Bf2 Nf5 16. Kb1 a4 17. Ng3 Ne3 18. Bxe3 dxe3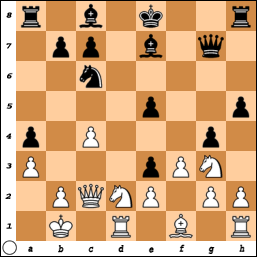 An interesting position. If now Nde4 to save the knight, h4 wins the other one on g3!
19. fxg4 Bxg4? But here, black has Qxg4!, with a threat of h4 to remove the knight from protecting f5. With the king and queen on the b1-a7 diagonal, the constant threat is Bf5.
20. Nf3 Qf7 21. h3 Be6 22. Ne4 Rg8 23. h4 Bf5 24. Rd5 Qh7


Now the pressure on the b1-h7 diagonal is overwhelming and black is going to win serious material. 25. Nxe5 Bxe4 26. Nd3 Bxd5 27. cxd5 Na5 28. Qxc7 Qg6 29. g4 Qd6 30. Qc2 Nb3 31. Bg2 Rxg4 32. Bf3 Nd2+ 0-1

Mindaugas Jansinitis vs. Tim McCarthy
Replay the whole game here
1. e4 c6 2. d4 d5 3. e5 c5 4. c3? Preferable is dxc5, the normal move.Despite black's apparent loss of time with c6 and c5, he has reached a good position, with his white-squared bishop ready to extract itself from c8, unlike similar positions in the French defence. 4…Nc6 5. Nf3 Bg4 6. Be2 e6 7. O-O cxd4 8. Nxd4 Bxe2 9. Qxe2 Nge7 10. Nd2 Nxd4 11. cxd4 Nf5 12. Nb3 h5 13. Be3 Be7 14. Rfc1 Nxe3 15. fxe3 f6 16. exf6 gxf6 17. Nc5 Qb6 18. b4! White is expanding aggressively on the queen-side and black's queen begins to look a little out-of-place.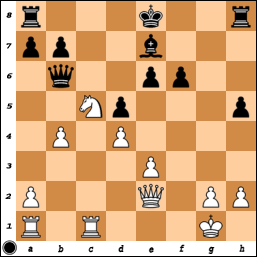 18…Kf7 19. a4 a6 20. a5 Qc6 21.Na4 Qd6 22. Nb6 Rag8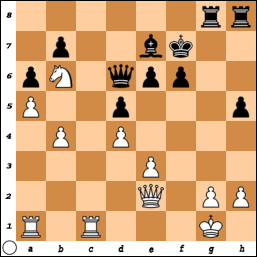 Now black's counterplay begins to take shape, with h4 and h3 looming.
23. b5 h4 24. bxa6 bxa6 25. Rf1!? h3 26. g3 Bd8 27. Rf3 e5? But this is an error.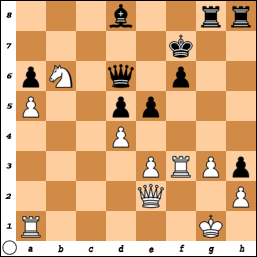 28. Qxa6 e4 29. Rf4 Bxb6 30. Raf1 Rh6 31. axb6 Ke6 32. Qa2
Now Rxe4 is threatened.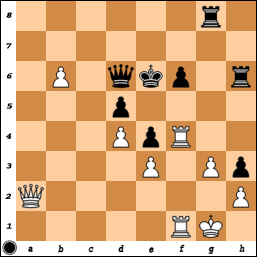 Ke7? 33. Rxe4+! dxe4 34. Qxg8 Qa3 35. Qg7+ 1-0 White cleans up the rook and then the h-pawn.
John Healy (1830) vs. Tony Scannell (1810) Sicilian Najdorf with Bg5 (Replay)
1. e4 c5 2. Nf3 d6 3. d4 cxd4 4. Nxd4 Nf6 5. Nc3 a6 6. Bg5 e6 7. f4 Be7 8. Qf3 Qc7 9. O-O-O b5?? A move too early. The correct Nbd7 is recommended. I must remember to know the basic opening moves when playing something as sharp as the Najdorf!
10. e5 Bb7 11. exd6 Bxd6 12. Qe3 Ng4 13. Qd2 Be7 14. Ncxb5 axb5 15. Nxb5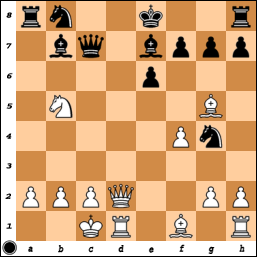 Around about here is the critical position. To illustrate black's difficulties, if he makes a lazy move such as Qc5??, then Qd8+! is mate in two. Despite white's attack, I felt that with the open files towards the king, black has some counterplay. His main problem is a serious lack of development. White has two pawns and a raging attack for his piece, so is extremely well-placed.
15…Qa5 This and Qb6 are the only two viable moves. 16. Nd6+ Bxd6?? Probably the losing move. Kf8 is much better, when a sample line goes 17. Nxb7 Qxd2+ 18. Rxd2 Rxa2 19. Kb1 Ra7 20. Bxe7+ Kxe7 21. Nc5 when white is a pawn up, just!, and black has good compensation once his knight and rook develop.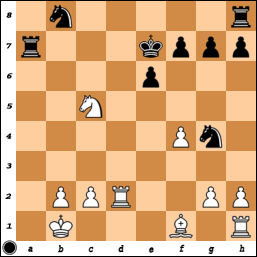 Potential position, after 16…Kf8 etc.
17. Qxd6 Nc6 To stop mate on e7. 18. Qd7+ Kf8 19. Qxb7 Ne3? Actually another serious mistake, but I wanted to get counterplay against the white king. 20. Qxc6? Simply 20. Ba6!! is crushing (see diagram below). If Qxa6, then Rd8+ diverts the rook to win the queen, or the knight to mate on e7. 20…Rxa6 is mate after 21. Qc8+ etc.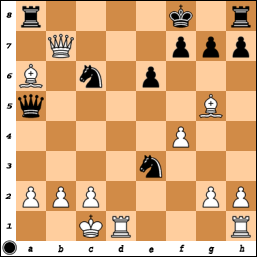 20…Nxd1 21. Kxd1 f6 22. Bh4 Rd8+ 23. Bd3 Qh5+ 24. Kc1 Qxh4 25. g3 Qh3 26. Re1 Re8 27. f5? In a game of errors, this one almost throws the win away.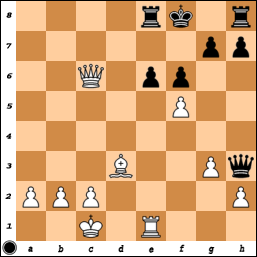 Black just needs the presence of mind to play Qh6+, when after Kb1, Qd2 is difficult to meet, while Kd1 allows Qh5+, when Re2 allows exf5 with play. With Kf7 possible, and then Kg6, the black rook on h8 comes alive too.
27…e5?? 28. Bb5 Qh5 29. Qc5+ Re7 30. Rd1 1-0 Black has no way to stop catastrophic loss of material and/or mate.