Archive for November, 2008
Rathmines A vs. Dublin University
Played Thursday, November 20th 2008.
1 Cafolla, Peter 1927 0 – 1 McPhillips, Karl 2283
2 Delaney, Killian 1950 1/2-1/2 Harding, Tim 2042
3 McCabe, Darren 1897 1/2 – 1/2 Burcea, Valentin 1900*
4 Janusaitis, Mindaugas 1921 1/2 – 1/2 Menzies, Colin 1904
5 Scannell, Tony 1810 1/2 – 1/2 Hayes, Peter J. 1890
6 Killane, Jack 1809 1 – 0 Moran, Stephen 1841
7 Fagan, Leon 1773 0 – 1 Delaney, Rory 1821
8 Moore, Ken 1683 1 – 0 Barry, Kevin 1606
Match Result: 4 – 4
They say of the European Championships (soccer) of 1988 that Ireland won a game they should have lost, drew a game they should have won, and lost a game they should have drawn. Last night felt a little bit like that: Peter lost a game he should have won, Killian drew a game he might have won, Mindaugaus drew a game he should have lost, as did Tony, while Ken was looking in a tight spot before making a great comeback. All in all, for the dust to settle and the result to be an undramatic 4 -4 draw hardly tells the story.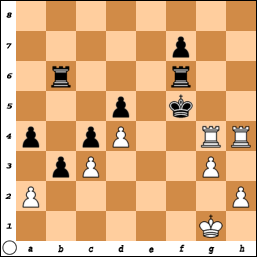 McPhilips vs. Cafolla, white to move
Board one was a miniture of the volatile nature of the entire match. Peter, black in the above position, only has to shepherd his a-pawn home and he is winning. He managed to turn a win into a draw in one move and then the draw into a loss in the very next.
After white plays 1. axb3, the correct move is 1…Rxb3. This should win. Instead, he played 1…cxb3, and after 2. Rf4+ he has to accept a perpetual check, with Kg5. Instead, he played 2…Ke6??. The game ended 3. Rxf6+ Kxf6 4. Rh6+ Kf5 5. Rxb6 Ke4 6. Rb4 Kd3 7. Rxa4 Kxc3 8. Ra3 Kc4 9. Rxb3 Kxb3 10. Kf2 Kc4 11. Ke3 and black resigns.
In a similarly generous mood, I reached this position, as black, against Peter Hayes, who had recently beaten me at the Galway Congress: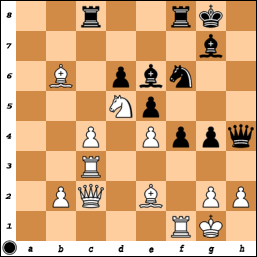 Hayes – Scannell, after Qd2-c2
Black is a pawn down, but has good counterplay on the kingside. The game started as a queen's pawn game, turning into a Sicilian Marocsy Bind-type position, and then developed into a type of King's Indian battle! I spotted what I thought was a neat tactic to win the pawn back and keep the attack going. After 1…Nxe4? 2. Qxe4 Bf5 (the "trick" – the queen is trapped, unless he sacrifices the knight) 3. g3! I was stumped. I missed this completely, only hoping for Ne7+ to clear an escape route for the queen.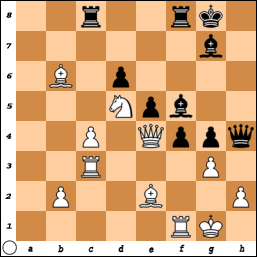 After the forced 3…Bxe4, there followed 4. gxh4 Bxd5 5. cxd5 f3 6. Bd3? (probably Rxc8 is best) 6…Rb8 7. Rc6? This mistake allows black to escape… 7…e4! Bxe4 8. Rxb6! Rxb6 9. Bd4+ Kh1 10. Bxb6 and the game was drawn shortly afterwards.