Archive for January 24th, 2009
O'Hanlon Cup, Board 6, 13 January 2009
White: Kelvin Shunjie Koh (rating 1152) Dublin University
Black: Ed Cunningham (rating 966) Rathmines
A really good game from Ed, featuring a well-executed king hunt and mating attack.
Ed's comments in normal type, mine in italics.
Petroff Defence
1. e4 e5 2. Nf3 Nf6 3. Nxe5 d6 4. Nf3 Nxe4 5. Qe2


Position after 5. Qe2
Not the best. Stronger is simply 5. d4 or, nowadays, 5. Nc3 is played quite often.
5. …Qe7 6. d3 Nf6
One of the lines in the Petroff (my favourite opening despite usually forgetting what move 4 should be!)
7. Bg5 Be6
The two usual options for Black are …Qxe2 or …Nbd7 but I wanted to keep the queens on the board, so developed one of my bishops.
8. Nbd2 d5
To prevent Ne4 which I felt was coming up next and to open a diagonal for my queen and bishop.
9. Nd4 Nbd7 10. Nb5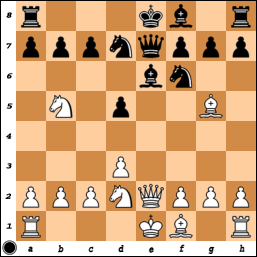 After 10. Nb5
This threatens Nxc7+ forking the king and rook and appears to discourage queenside castling, although the computer says that castling is blacks best move, I don't like it, so bring my queen out to defend instead.
To start making threats, which can be easily parried, is not a good long-term strategy. White has spent two moves to get the knight to b5 with no obvious reward.
10. …Qc5 11. c4 dxc4 12. dxc4 a6 13. Nb3 Qb6 Or Qxg5, but Nxc7+ follows…with complications
14. N5d4 Bb4+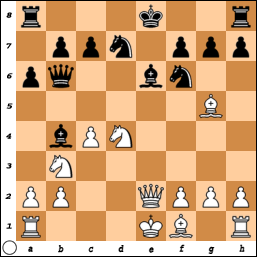 Position after 14…Bb4+
An obvious move for black, developing my final piece with tempo.
We can also add that the sorry knight is back on d4 having only aided black's development and that Nb3 was another empty threat.
15. Kd1
This is okay if White can get his rook out to the d file and his king to b1.
Better would be Bd2. He is very optimistic that he can get his king to safety, but this will prove to be his undoing. In fact, I think this is the losing move.
15. …0-0-0 16. Kc2
Anxious to get the king to safety, Nxe6 followed by Be3 would have been better.
16. …Rhe8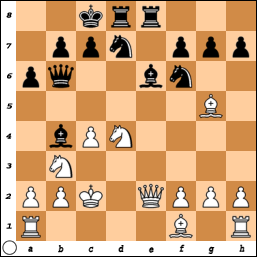 After 16…Rhe8
I wasn't sure of the correct move here but at least this one delays Whites plan for his kings safety. The pretty obvious threat from black is a bishop check, discovering an attack on whites queen, so white takes the bishop.
Rhe8 is an excellent move. Just contrast white's uncoordinated and undeveloped pieces to black's mass of them in the centre and his very safe king.
17. Nxe6 Rxe6 18. Be3 Bc5
Be3 was a good move, but should have happened sooner. Again I wasn't sure of the best move here but rather than move my queen, I felt an exchange was in order, both to open the d file and to give my opponent room to possibly blunder, something I usually do when there's a small tactical sequence to calculate!
19. Nxc5 Nxc5 20. g3?
White would have been better with Rd1.
20. …Qc6!
Removing the pin on the c5 knight and also threatening the h1 rook.
21. Bh3??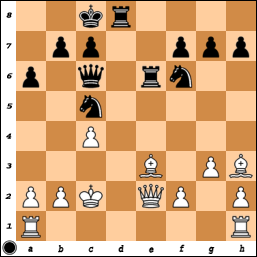 After Bh3, black has a forced win

Connecting his rooks and also pinning blacks e6 rook, however things are not good for white after that move.
Making moves that "look good" and without checking whether they actually address the opponent's threats or not is called "Hope Chess" by Dan Heismann. White is simply hoping that it will work! Having said that, Ed's finish is a multi-move king hunt that is hard to visualise.
21. …Qe4+ Kc3
Kc1 was white's best option but his queen is lost following 22. …Nd3+
22. …Rd3+
23. Kb4 Nd5+ A very pretty finish!
0-1
White resigns as there is no way to avoid 24. …b6#
A nice mate with a pawn, which can often provide the finishing touch after the king has been chased up the board. I was pleased with this game, especially the last few moves, plus it was over relatively quickly without too much analysing required in the middle game, which I can't stand! The only threats from white appeared to be the knight badgering me on b5 and the couple of attacks on my major pieces but overall I think that black had the greater initiative for most of the game. I think there are better lines in the Petroff than white's "Queen to e2″ where it remained relatively inactive. Some of these lines lead to exciting open games for the beginner and I certainly don't consider it a 'drawish' opening.