Archive for May 28th, 2009
French Defence, Winawer Variation
Jack Killane (1827) vs. Peter Lynch (1578)
Rathmines Senior Club Championships, Round 5.
1. e4 e6 2. d4 d5 3. Nc3 Bb4 4. Nge2
Slightly unusual-looking defence, although a book move.
4…Ne7 5. a3 Bxc3+ 6. Nxc3 Nd7 7. Bf4 O-O 8. Be2 a6 9. Bf3 Nf6 10. e5 Nd7 11. O-O c5 12. Ne2 c4?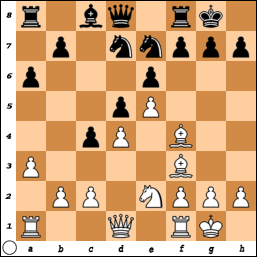 I don't like this move, personally. It takes the pressure off d4 and commits black to expanding on the queenside instead. Better would be Ng6 or taking on d4 and following with a quick f6 to dissolve white's centre and accompanying space advantage.
13. Qd2 b5 14. Ng3 f6 15. exf6 Nxf6 16. Rae1 Ng6 17. Be5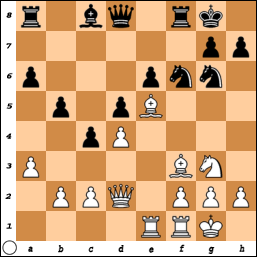 This seems to throw away white's advantages.
17…Nxe5 18. Rxe5 Bd7 19. Qg5 Qb6 20. c3 a5 21. Nh5 Nxh5 22. Bxh5 Rf6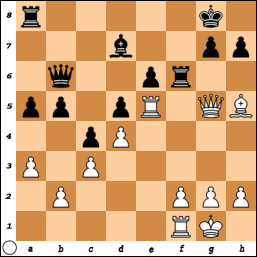 23. Qd2 White misses the trick Rxd5!, winning the pawn, because exd5?? loses the rook on a8 to check.
23…b4 24. axb4 axb4 25. Ree1 Ra2 26. cxb4 Rf8 27. Bg4 Rfa8 28. Qe3 R8a6 29. Qc3 R2a4 30. Re2 Qxb4 31. Qh3 Qb6 32. Rfe1 Qxd4 33. Bxe6+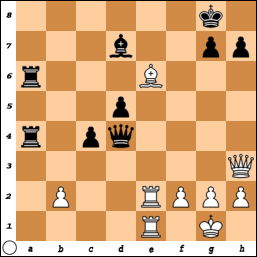 The critical point. What does black do? It looks like the e6 pawn has been lost with no compensation, plus white's rooks are threatening to win the game very quickly down the open e-file. The bishop is en prise, which means the king cannot move out of check. What to do?
33…Bxe6?? 34. Rxe6 Ra1 35. Re8+ Kf7 36. R8e7+ Kg6 37. R7e6+ Kf7 38. Qh5+
Mate follows in a few moves 1-0
Looking back to move 33, Black should have taken advantage of the pin through to the queen on h3, and the weak back rank, with the saving move 33…Rxe6!! (see diagram below) with a draw the likely result.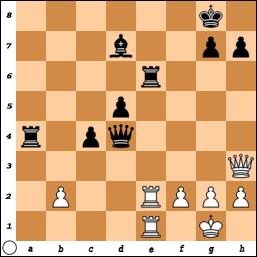 Here is a possible sequence:
33…Rxe6!! 34. Rxe6 Ra6! protecting the sixth rank and threatening to win with Bxe6 or Rxe6 next… 35. Re8+ Bxe8 36. Rxe8+ Kf7 37. Qd7+ This looks very dangerous, but the black rook and queen are protecting important squares around their king, plus there is the constant threat of mate against white's weak back rank. 37…Kg6 38. Re6+ Rxe6 39. Qxe6+ Kh5 40. Qf5+ Kh6 41. h4 etc…
So, an opportunity missed for Peter to draw. In fairness, it was a tough one to see!
John Burns (1774) vs. James Burke (1712)
Round 6 of the Rathmines Senior Club Championships
Queen's Gambit Declined
All comments by James Burke
1.d4 d5 2.c4 e6 3.Nc3 Nf6 4.Bg5 Nbd7 5.cxd5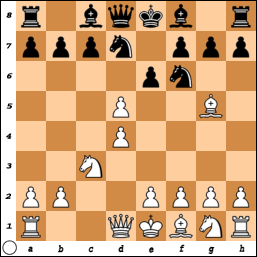 There was an improvement for Black in the Exchange Variation a few years ago, which I believe was featured in the relevant Dangerous Weapons book but, as we've approached it from a different move order…