Archive for September, 2009
I want to show two more games of Kieran's – thanks to John Burns and Jack Killane for annotating two of theirs against Kieran. Again, we see all of his characteristic play – solid, positional, closed games but with always an eye on tactical chances. His game against John features an uncharacteristic blunder – which, if we overlook, he should have won the game. But I know Kieran would always be the first one to congratulate an opponent, no matter what the circumstances of his loss. 
But first, to Jack, who writes:
"My first memory of Kieran Cranny is when I joined Rathmines Chess Club in late 1967. I had been playing chess for 4-5 years as a member of Dublin CC and indeed remained as a member of Dublin for some years thereafter. I had played in Dubin CC teams in the Leinster leagues and so might have met Kieran, but do not remember him.
The following game is the only one I have a record of against Kieran. It was played in the 1968 Rathmines Club Championships. In those days the championship was played on one all-play-all section of 20 players or so (as far as I remember…), so one could play up to 19 games. In practice, many players not in the running for prizes lost interest, so the championship dragged on and many games were not played. In my opinion, the current practice of several sections played over 6 rounds, over 6 weeks, is much better.
My recollection is that the championship was between Michael Keeshan, Colm Egan, and myself. Colm beat Michael, Michael beat me and I beat Colm (rather fortunately). My loss against Kieran knocked me out and Michael was the winner. Michael went on to play on the Irish team in the Skopje Olympiad in 1972. He married, moved to Greystones was a prominent member of the Greystones club. His brother Jim also played in Rathmines and won the senior championships in 1970.
[For the record, Kieran won the Senior championships in 1973, and the Intermediate championships in 2003 (shared) and 2004. - Ed]
Rathmines Senior Championships 1968
White: Cranny, Kieran, Black: Killane, Jack
Replay the game here (opens in a new window)
Nimzo-Indian Opening
1. d4 Nf6 2. c4 e6 3. Nc3 Bb4 4. Bg5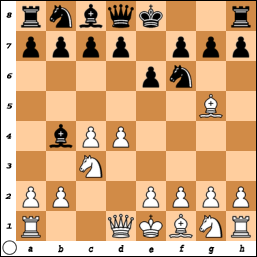 In those days, I invariably played the Nimzo Indian. I remember great tussles in this against Ray Byrne and Noel Kerrins.
4…h6 5. Bh4 c5 6. e3 O-O 7. Bd3 d5 8. Nf3 b6 9. O-O Bxc3 10. bxc3 Nbd7 11. Re1 Qe8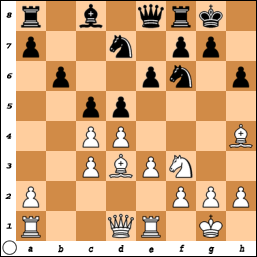 My notes give black's move a question mark. I was probably trying to play e5. If so, white's next move prevents it.
12. cxd5 exd5 13. c4 Bb7 14. Bxf6 Nxf6 15. dxc5 Rd8 16. cxd5 Rxd5 17. cxb6 Qd8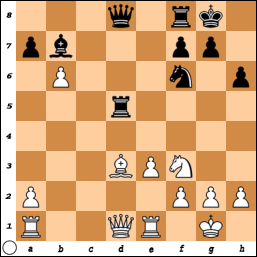 Black thought he was winning a piece but overlooks white's (obvious) next move.
18. Nd4 Rg5 19. f3 axb6 20. Qe2 Re8 21.Rad1 Nd5 22. Qf2 Qc8 23. g4 Rge5 24. Nf5 Qb8 25. Bc4 Kh8 26. Bxd5 Rxd5 27. Rxd5 Bxd5 28. e4 Bc4?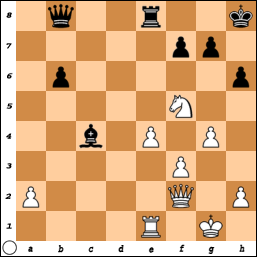 The final blunder 29. Qd4 Qe5 30. Qxc4 1-0
The second game features a ladder game from 1992. Annotated by John Burns
Rathmines Ladder, 1992
White: Burns, John Black: Cranny, Kieran
Replay Game here
1. d4 Nf6 2. c4 e6 3. Nf3 b6 4. a3 Bb7 5. g3 Be7 6. Bg2 O-O 7. Nc3 c5 8. d5 exd5 9. cxd5 d6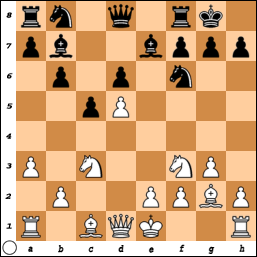 10. O-O Re8 11. e4 Nbd7 12. Re1 Ne5 13. Nd2 Nd3 14. Re3 Nxc1 15. Rxc1 a6 16. a4 Bf8 17. Nc4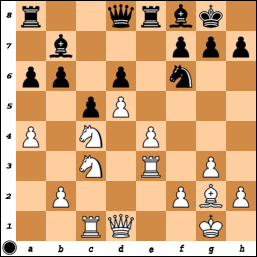 17…Qc7 18. f4 Nd7 19. Qe2 g6 20. e5 dxe5 21. fxe5 Bg7 22. d6 Qb8 23. Nd5 Bxd5 24. Bxd5 Ra7 25. e6 fxe6 26. Bxe6+ Kh8 27. Bxd7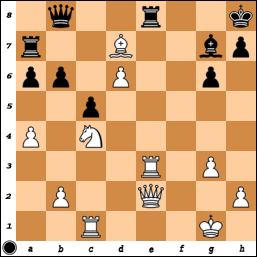 27… Rxd7
"An uncharacteristic error by Kieran, particularly at this stage in his career. About five years ago he told me that he could no longer keep "blunders" out of his play, and found them so frustrating that he wouldn't take on a serious game any more. He wasn't sad about that, more philosophical. Which was only right – how many of us will still be playing to his standard at the age of 75?
Anyway, he should have played 27… Rxe3 here and then he's winning. I must reply 28. Nxe3 (28. Qxe3?? Bd4) and then 28… Rxd7 29. Nc4 Bd4+ 30. Kg2 b5 31. axb5 axb5 32. Ne5 Qb7+ 33. Nf3 Rxd6 and Black should be able to convert.
28. Rxe8+ 1-0
Never mind, Kieran. I'm sure some day you will have your revenge in the great chess club in the sky. In the meantime, may you rest in peace."